Getting ready to lock down the hatch to your bunker in anticipation of the coming societal meltdown
forecasted last night by our fearful leader
? Looking for some good reading material to take with you? Well, yesterday's mail brought me copies of two different, amazing new science fiction anthologies that include new stories by yours truly, along with a whole bunch of amazing stories by my betters.
Fast Forward 2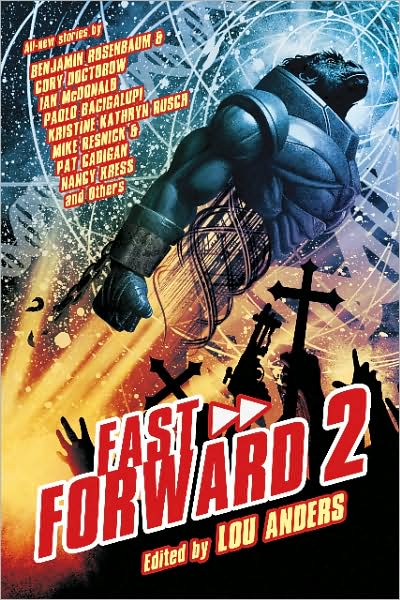 Fast Forward 2
from
Pyr Books
is the latest installment from the guy who is shaping up to be 21st century SF's master anthologist and most innovative editor, the incomparable
Lou Anders
,
as previously noted
, the only editor in science fiction who can actually see the future. With his Fast Forward anthology series, Lou has set out to revive the "literature of ideas" promise of earlier periods in the genre, to meet the challenge incisively articulated in the book's epigrammatic quote from
Paul McAuley
(who also has a story in book):
Science fiction is the holy fool of literature. It can say what it likes and get away with an examination of truly radical and subversive ideas because no one takes it seriously. When it's at its best, we're generally in trouble. Science fiction flourished during the social and economic upheavals of the 1930s, during the Cold War, and during the Iron Age of the 1980s. It should be flourishing now, damn it, but too many people who used to hang out with it have wandered off into some kind of fluffy make-believe world or other. Real science fiction doesn't make stuff up. It turns reality up to eleven. It takes stuff from contemporary weather—stuff no one else has bothered or dared to question—and uses it to make an end run on reality. It not only shows us what could happen if things carry on the way they are, but it pushes what's going on to the extremes of absurdity. That's not its job: that's its
nature
. And what's happened to science fiction lately, it isn't natural. It's pale and lank and kind of out of focus. It needs to straighten up and fly right. It needs to reconnect with the world's weather, and get medieval on reality's ass.
My story, "
The Sun Also Explodes
," tries to meet that challenge by exploring what happens when conceptual artists start to play with genetic material as a new medium. Lou's invitation to come up with something for the anthology arrived shortly after I had read Freeman Dyson's
mind-blowing essay in the New York Review of Books
about "
Our Biotech Future
," and the imminent explosion of garage geneticists spurring on a new wave of cross-species evolution. It also involves prosthetic limbs, disabled veterans of our global war, the things the very rich to to stave off boredom, next generation professional athletes, weird sexual intrigue, and a tree that grows Prozac.
To give you an idea of the quality of Lou's selections, five of the stories in
David Hartwell
and
Kathryn Cramer's
outstanding
Year's Best SF 13
came from
Fast Forward 1
. So
go get yourself a copy
!
Spicy Slipstream Stories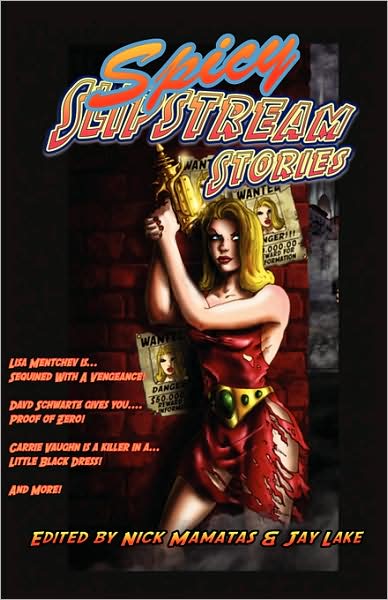 Spicy Slipstream Stories
is the genius product of the twisted minds of authors
Nick Mamatas
and
Jay Lake
: to see what an invitation to combine the literate fabulism of slipstream with the technicolor plotting of the spicy pulps would produce (see
our previous post on the anthology
for a complete recap of what remain the most wonderfully insane guidelines for submissions ever written). Through the persistence of the editors and the vision of the folks at
Lethe Press
, after some false starts the anthology is now on the streets, and what a rare and wondrous thing it is.
My spicy slipstream story, "Wild Tchoupitoulas," explores the science fictional power chord Brian Aldiss calls the "
cozy catastrophe
," in the context of an alternate post-deluge New Orleans under lingering clouds of
Walker Percy
malaise and comic book wonder. It is totally, 100% nuts. So why don't you go
buy one
?